April 15th, 2007 by Jason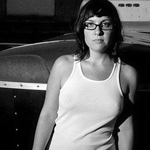 Carly Comando
"Everyday"
Listening to this, one would find it hard to believe that the artist sucked at sightreading. Carly admits cheating her way through piano lessons because she has perfect pitch. She says she writes off the top of her head.
If you're an avid youtuber, you're probably asking yourself "Where have I heard this from? It's familiar!".
That's because its from This youtube video made by Noah.
The video encompasses photos from
January 11, 2000 – July 31, 2006. 2,356 Days. A work in progress.
(
download
)
4 Responses to "Carly Comando – Everyday"
on 17 Apr 2007 at 10:42 am

1

gwen

i think it's funny that her last name is comando and she's SO TOTALLY not wearing a bra in that photo.

/7th grade boyness

Oooooooh Pretty.

on 01 Dec 2008 at 3:27 pm

3

Jan

wonderful song :-)

on 21 Feb 2010 at 8:02 pm

4

Cara

you know… I do remember hearing that song from Noah's video! I was at the beginning (and near the end) of my photography career, so I actually got in contact with him… really nice guy.

Anyways… it's really a great piece, thanks for putting it up and bringing back those memories!
Leave a Reply