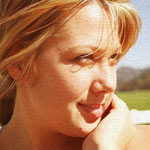 Colbie Caillat
"Bubbly"
This song makes me happy. Today is Monday. It's spring.
I don't know too much about Colbie, but I do know I like this song. I'm not sure if she has a CD, but she needs one.
Check her out on her myspace page. She's apparently pretty popular around here.
Update: She's so popular, I got a DMCA notice and an email from the RIAA. For this reason, I am removing the track, until the copyright holder grants me explicit right to post this song:
Dear Mr. Gulledge:

I am contacting you on behalf of the Recording Industry Association of America, Inc. (RIAA). The RIAA is a trade association whose member companies create, manufacture and distribute approximately ninety (90) percent of all legitimate sound recordings sold in the United States.

It has come to our attention that your website, http://www.digitalcitrus.com/, is offering a sound recording by the artist known as Colbie Caillat, which has not yet been commercially released. This recording is owned by one of our member companies and has not been authorized for this kind of use. We request that you immediately stop offering this unlicensed sound recording.

You should understand that this letter constitutes notice to you that you may be liable for the infringement of our member's recordings. This letter does not constitute a waiver of any right to recover damages incurred by virtue of any such unauthorized activities, and such rights as well as claims for other relief are expressly retained.

We await your immediate confirmation that you have removed the infringing sound recording from your site. We may be contacted at RIAA, 1025 F Street N.W., 10th Floor, Washington, D.C., 20004, Tel. (202) 775-0101, or e-mail antipiracy@riaa.com.

Sincerely,

Traci Crippen

Online Anti-Piracy

RIAA
Fear not, You can still hear this song on her myspace (linked above) or download it from here (at a higher bitrate, even): http://www.purevolume.com/colbiecaillat.

I believe she posted it herself, so I don't think this song will be going anywhere =)
Download it while you can!!



UPDATE!: 08/08/2007 Colbie's online marketing agency sent me mp3s and CD's and other promotional material and said I could post this online again!
(
download
)
13 Responses to "Colbie Caillat – Bubbly"
Cute.

on 12 Apr 2007 at 4:49 pm

2

gwen

this song sounds almost exactly like india arie.

on 22 Apr 2007 at 12:38 am

3

James

Good choice! She also has a melancholic song titled "Battle" which is my fav by her.

Silly RIAA :P … she does have an album coming out (Coco) on July 17th which is only a few days away!

I love the album. I makes me crinkle my nose…

Considering that Colbie has created her buzz largely through the Internet, the RIAA was acting the total fool. Don't they realise that it's people like us music bloggers who are giving exposure to little known acts. I was so pleased when somebody thanked me for posting tracks by Mindy Smith and Brandi Carlile, because he'd never have checked out artists by such names. Another person commented that she got to learn about Jens Lekman from me, and was going to see him in concert very soon. And never mind the amount of music I've found through blogs!

on 16 Oct 2007 at 12:00 pm

6

nikki

I Love This Song! Me and my friend

on 17 Oct 2007 at 5:33 pm

7

katie

i love this song!!!!!!!
she is a great singer. all my friends
LOVE this song. it rocks

on 05 Nov 2007 at 11:33 am

8

beka

how can i download this song?

on 05 Nov 2007 at 11:39 am

9

Jason

Beka, don't you see the download link? it's next to the play button.

on 07 Nov 2007 at 5:58 pm

10

Rhiannon

I love your music and i hope that you become the most popular artist ever!

on 23 Nov 2007 at 10:33 am

11

Jamaal

Wow,this song is……amazing

nice song

on 22 Jan 2008 at 10:37 pm

13

Nagarjun

i love this song too n was badly looking for a way to download it……
thanks to u…………i found the place to download it…….

however…i wanted to ask u as to how can u play music on ur blog
i have been trying to look for tutorials……ur music player is simple n effective……….cud u please tell me the procedure……..

i request u to kindly mail me……..nagarjun59@gmail.com

all the best!!
Leave a Reply