December 7th, 2007 by Jason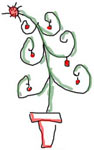 Christmas is in full swing. I've sunk a lot of money on christmas lights, a tree, and all manner of christmas decor this year. This is what happens when you buy a house. Be warned.

I'm continuing a tradition I started a few years ago – I'm putting up an internet radio station complete with Christmas music. It's All Christmas all the time! I have a pretty eclectic mix of tunes in rotation and I'll have the radio station up 24/7 until New Years day. Click here to tune in. You can use Shoutcast (windows) or iTunes (win/mac), or whatever else can read a playlist stream. If you want more details about the stream: http://www.digitalcitrus.com:8000/
ENJOY. The Power of Christmas Compels you.
p.s. I drew that Christmas tree in 2003 with only a mouse in photoshop. Cartoony aint it?
4 Responses to "It's Christmas Time!"
Leave a Reply