March 27th, 2007 by Jason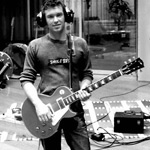 Justin King
"Your Black Hair"
I'm not sure what this song's title really is. I can't seem to find any mention of it in any form. If you know, please do tell me. I'm told from a very reliable source that the name of this song is "Your Black Hair".
What I do know is that Justin King is an amazing guitarist. If you don't believe me, check out this video. (tip: skip ahead to the 45 second mark)
His skills on the guitar are undeniable.
A friend of mine (Casey) asked me about a song I had once sent her — this song — just as I was looking for a song to post today. It was reason enough to stop looking for a song. Serendipity was working overtime.
Enjoy!
(
download
)
6 Responses to "Justin King – Your Black Hair"
*grin*

on 27 Mar 2007 at 3:52 pm

2

Mary808

I'm sad to see the chick-fest is over, but this was a pretty good song.

Thumbs up

"Your Black Hair"

Sold from the first words out of his mouth. Little Pete Yorn-ish to me, which I just love him.

I'm just glad there's no more irish music! hahaha

You know what, I have to leave another comment because I just absolutely love this song and everything about it. Thank you so much for finding it again for me!

oh justin king. what a guy.

and let me take this chance to say that ehren ebbage is pretty great too, justin's guitar player.

http://www.myspace.com/ehrenebbage

AND i am currently THE only female in any of his pictures, and have been that way since last year. and it makes me smile. a'like this :)
Leave a Reply