August 13th, 2007 by Jason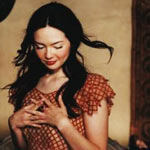 Marié Digby
"Umbrella"
She'll be making big news by tomorrow. This song was just added to iTunes today. It's a pretty good cover. A non-produced version is on youtube. Check it out. This version aired on MTV at the end of the season premiere of "The Hills" (3rd season). Don't start. It's not my fault I started watching it. Someone twisted my arm.
Marié has been recently in the studio (re?)recording 3 songs. You can find them on her myspace page (linked below). I love Rihanna's version of this too, but I like acoustic takes on popular songs even more. Enjoy.
(
download
)
14 Responses to "Marié Digby – Umbrella"
on 14 Aug 2007 at 1:40 pm

1

Taycia

When I heard the song start playing at the end of that episode, I definitely did a double take. Love the song, and it's interesting to hear such a non-robotic version of the song, especially the "ella-ella-ella, ay-ay-ay".

The song is much more emotional in acoustic.

yes, i definetly agree.

This version of the hit song "umbrella" is way better sounding and the lyrics see mto hit me harder with this song than with the up-beat hip-hop version of it :D

on 14 Aug 2007 at 8:56 pm

3

Stacy

YOU WERE SUCH A WILLING VICTIM. Puh-leeze. You love the Hills. You're so on Team Lauren.

on 15 Aug 2007 at 9:51 am

4

James

I like both versions but would have to give a slight edge to the cover; the lyrics have more resonance in the cover.

As for the Hills…….there's no shame in a lil "cheese" TV, and the show does feature some interesting music selections. Besides those girls are hot…..self-indulgent, spoiled, and divorced from reality……but hot nonetheless.

hey! I actually like this!

on 17 Aug 2007 at 4:18 pm

6

yulizard

such a pleasant surprise to have it from you !

thanks for sharing !

on 19 Aug 2007 at 8:39 pm

7

Julie

It's funny, I just saw Mandy Moore doing a cover of this song also & really liked it. I have to admit, I like all 3 versions I've heard so far of this song :o) Thanks so much for sharing!

on 24 Aug 2007 at 3:34 am

8

whenone

In china, I just heard rihanna's vision.
but Marié's ,I download today.How wonderful it is !Taste country & pop with the guitar.

Ok, I am probably one of only a few people who is not a fan of this. She sounds okay on some of her other covers but I'm just not impressed thus far. Also, hasn't anyone noticed that she messes up the lyrics? "Baby cause in the dark / you will see shiny cars" should be "you CAN'T see shiny cars." Duh, because you can't see anything when it's dark. Those are what the actual lyrics are, and to me, it's a somewhat critical part of that line and misconstrues the meaning. So get it together, Marie Digby.

on 31 Aug 2007 at 12:08 am

10

Kyle

this is freaken sweet

on 22 Sep 2007 at 6:34 pm

11

Kwixie

This isn't a bad version at all! In fact, I like it more than the original. Has anyone heard Mandy Moore's version? That's not too bad either!

on 22 Sep 2007 at 9:13 pm

12

kasandra

when I heard this song umbrella by rihanna im not impressed coz it's the same sounds of the other rnb artists… But when I heard the acoustic version of marie digby.. Wow!!! it's pretty enough to me to take this, one of my favorite songs… And infairness she's pretty.. I love her voice it's so sweet and innocent voice.. hehehe… Keep it up marie!!! Im the one of your BIG FANS… muah.. Goodluck in your career..

on 22 Sep 2007 at 9:17 pm

13

kasandra

Never been heard mandy moore's version…

on 27 Dec 2007 at 4:16 pm

14

stephanie

girl your awsome, great singer, love you, keep doing your thing!!!!
Leave a Reply